Loving and Loving
Cast: 2w, 1m
Loving and Loving is inspired by the story of Richard and Mildred Loving, an interracial couple from rural Virginia who were arrested in 1958 for the crime of being married. Their decade-long legal struggle resulted in a landmark civil rights case decided in 1967, which upheld their right to live as husband and wife and struck down all remaining state bans on interracial marriage. Beginning in the present day and delving into the historically rich 1950's – 60's, Loving and Loving looks at this nearly 50-year old story from a 21st Century perspective, exploring the enduringly complex nature of intimacy, identity, and the impact of the law on our most personal decisions.
Seeking development opportunities.
Development History:
Showcase Production. Radical Evolution and the Harold Clurman Lab Theatre. New York, NY. Summer 2017.
Reading. InkTANK festival. New York, NY. Winter 2015.
Developmental Workshop. Radical Evolution. New York, NY. Fall 2014
Public Reading. Harlem Arts Festival. Harlem, NY. Summer 2014
Funding has been made possible the Puffin Foundation
Developed in part with the support of Rising Circle Theater Collective at the 2014-2015 INKtank Play Development Lab for Emerging Artists of Color.
Developed with the support of Rising Circle Theater Collective at the 2014-2015 INKtank Play Development Lab for Emerging Artists of Color and and Brooklyn Arts Exchange.
The San Patricios Project (title tbd)
Cast: 6-8
Originally commissioned by Watts Village Theatre Company, and currently in development in collaboration with El Teatro Campesino, this play uses a blend of traditional "teatro styles" devising techniques, and original source material to dramatize the story of Los San Patricios, Irish/American immigrants who defected to the Mexican Army during the Mexican American War.
Seeking sites for 2018 tour. Please contact beto@radicalevolution.org for more information.
Development History
Developmental Workshop. El Teatro Campesino. Spring 2015.
Developmental Workshop. New York Theatre Workshop. Winter 2017.
Workshop Presentation. 2010 NET Microfest, Los Angeles Theatre Center, and Watts Towers Arts Center in Los Angeles, CA. Winter 2010.
PROJECT SUPPORT
This project is made possible, in part, through a grant from the Network of Ensemble Theaters' Travel & Exchange Network (NET/TEN), supported by lead funding from The Andrew W. Mellon Foundation and the Doris Duke Charitable Foundation.
This project has been made possible, in part, by the Puffin Foundation
Created with support from the 2050 Fellowship Program at
New York Theatre Workshop
You're not Alone (anymore)
Cast: 8-12
Commissioned by the Stella Adler School for Acting, this play attempts to discover the meaning of homes, homelessness, and collective action, through the story a group of archeologists desperately trying to uncover the truth of an undeveloped piece of property, the real estate mogul intent of inserting condos onto it, and the community around it that knows what will happen to them if either were to succeed.
Currently Seeking Workshop leading to World Premiere
Development History:
Staged Reading. New York Theatre Workshop. Spring 2017.
Developmental Workshop. Stella Adler Studio of Acting. Fall 2016.
Ally
Cast: 1
An examination of what it means to be a racial/ethnic/cultural ally in the modern era, as seen through the story of Peter Norman, the little known ally of Tommie Smith and John Carlos, who stood with solidarity with them during their momentous moment of protest during the 1968 Olympics.
Seeking development opportunities.
This play is available for commission.
Black Me Out
1m2f, 1f, 3m, plus ensemble
Part of a series of commissions based on albums, this play follows the fictional punk rock band The Suspect Device, and those close to them as their world is rocked after the lead singer comes out as transgender to the punk community. Inspired by "Transgender Dysphoria Blues" by Against Me!
Currently seeking development opportunities.
To Live is to Fly
Cast: 4w, 5m
Heavily influenced by the music of Townes Van Zandt, To Live is to Fly is a play with music about a multiethnic blues musician who must discover the truth about the history of his family to cure himself of a strange affliction: coughing up sand. To do so, he must take a personal journey that forces him to confront who he is and his hidden family history, as well as all the people he encounters along the way, talking guitars, and mysterious desert mariachis.
Currently Seeking Workshop leading to World Premiere
Development History:
Workshop. Kitchen Dog Theater. Dallas, TX. Spring, '14.
Reading. Radical Evolution. Winter, '13.
Tofte Lake Artist Residency. Ely, MN. Fall, '11
Into the Pines
Cast: 3m, 2w
A young man must wrestle with the ghosts of his past and the trials of his present when he returns to his childhood farm in rural East Texas. Whispers and allegations about his family surround him and in the end, he must make the decision of whether stay in his hometown or sell the farm, something he knows would cause his family to roll over in their graves.
Currently Seeking World Premiere
Development History:
Maria Irene Fornes Hispanic Playwrights in Residence Lab. INTAR. New York City. Spring '11
Workshop Production- Texas Black and Latino Playwrights Festival. TXSTU. San Marcos, TX. Summer '10
Workshop Production- Blueprints New Play Festival. USC. Los Angeles. Spring '09.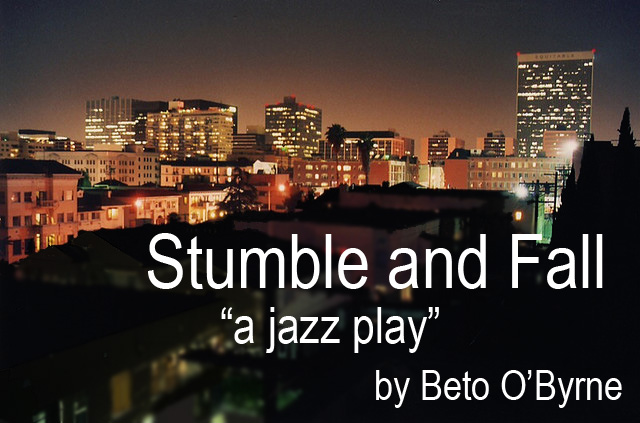 Stumble and Fall ("a jazz play")
Cast: 2w, 2m.
It's 2010 and Manny and Jade meet in a lonely dive bar in Koreatown. Sparks fly. They return to Manny's small apartment after last call for a few more last calls, and little something else. But neither one of them were prepared for what happens next as a simple tryst explodes into something much deeper. Meanwhile it's 1975 and Everett sits in a hospital waiting room with a woman who refuses to speak to him, which only makes him talk more. This dual-action play explores the nature of identity, history, multiculturalism and more.
Currently seeking World Premiere Production.
Development History:
Workshop Production- Under Construction Reading Series. USC. Los Angeles. Spring '10.
Among the Sand and Smog
5w, 3m
A drama told in three separate acts via three separate stories that explores one of Western Hemisphere's forgotten tragedies. Since the 1990s, factory workers and other young women of the city of Juarez have been disappearing off the streets, only to be discovered later lifeless in the desert, or sometimes not at all. Over 300 women have been brutally raped and murdered, the culprits remain at large, and a city mourns while a nation and the world forget it.
Email for producing rights
Production History:
Brand New Theatre (USC Campus), Los Angeles. Fall '08
San Pedro Playhouse. San Antonio. Summer '08
Fronterafest (festival production). Austin. Winter '06
¡Torera!
Cast: 2w, 4m plus ensemble
In Mexico, during the 1950s, Liddie Bates is a young Anglo woman who dreams of one thing…bullfighting. With the help of her mentor, once famous, now mysteriously defamed Juan Guillermo de Vega, and his assistant Rodrigo, Liddie embarks on a journey that no woman has ever accomplished, to become a professional bullfighter. Inspired by the life of matadora Pat McCormick, worlds collide in this fast paced, music and dancing theatrical epic.
Currently seeking development opportunities.
This play is available for comission.
(Get a) Grip
6m, 2w
A play with music set in modern day Austin, TX. A tight knit crew of friends around 30 years old discover what happens to punk rockers who grow up and become too old for punk rock and that through trials and several splinters in their friendships, all that remains is their art, their music.
Currently seeking Workshop Opportunities leading to Premiere
Ship of Fools
2m, 2w plus ensemble
Inspired by the European legend, Ship of Fools presents us a world and its inhabitants as a vessel whose deranged passengers neither know nor care where they are going. On this ship awakens Jimmy, who finds himself hurdling through space with no knowledge of his direction or purpose. There he meets its cast of characters, a fallen priest, a blind soldier, and an aging socialite. While attempting to realize is own reasons for being there, Jimmy discovers more about himself and his inhabitants than he ever thought possible, and whether or not he choses to accept his fate when the play reaches its shocking conclusion.
Currently seeking workshop.
Knifefighter
Cast 6m, 5w plus ensemble
A play inspired by and designed for stage combatants. In a post-apocalyptic future, a man, Bowie, rules by the edge of the knife. When Gloria arrives, and challenges him, she shakes the foundation of the society he has created, ultimately re-forges the world into her own corrupted ideals.
Currently seeking development opportunities leading to a world premiere.
Development History: Cypress College New Works Festival. Cypress, CA. Summer '08